28
Mar
CLAYMATION ERASMUS+ TRAINING- 1st-8th of MAY 2016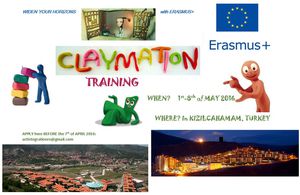 CLAYMATION is an Erasmus+ training course, implemented between 1st-8th of May, in Kizilcahamam, Turkey, by Kassif Youth and Sport Klub, from Turkey, in partnership with Act Integration Association from Romania and 2 other NGOs partners from Croatia and Estonia.
During training the 20 young participants will make an animation short film together with clay characters made by themselves.
Clay Animation prepares you for a future work in the creative arts, applicable with various groups. For most of the youngsters it's a way of exploration and discovery of new skills, of knowledge, of ways of thinking which lead them to their own/collaborative creative pathway.
The participants will receive the European Certificate YOUTHPASS, recognizing the competencies acquired during the training.
Activity dates: 1-8 May 2016, arrival on the 1st of May, departure on the 8th of May
Participant's profile: 5 youth workers/country, aged 18-40 years old, interested in Art like - photography, making sculpture, making movies or digital arts
TECHNICAL DETAILS: Each country should have a photo camera and it will be better to have DSLR and also a notebook computer.
LOCATION: the venue of the training course is Kizilcahamam, 70 km far from Ankara. Kizilcahamam is very peaceful and well known town, with its beautiful nature, healing hot springs and mineral waters. Nearby Soğuksu National park contains a scout camp and walks, and areas for picnics in the forest.
ACCOMODATION: http://www.kizilcahamam.bel.tr/2108/Soguksu-Otel
MEALS AND PROGRAMME: costs will be fully covered with a grant which comes from European Commission, through Erasmus+ programme, Action KA1
TRANSPORT: The participants shall pay in advance the price of the tickets. The transportation costs will be reimbursed, according with Erasmus+ Distance calculator, on the presentation of the original tickets/boarding passes, at the end of training in Kizilcahamam, by hand as cash.
The participants must get to Ankara airport and the Turkish partner's team will pick them up from airport with a private minibus and drive them directly to hotel at Kizilcahamam.
How to apply: send your letter of motivation and your CV, to the following email actintegrationro@gmail.com
Deadline: 7th of April 2016