10
Apr
Invitatie la MAGAZIA KULTURAL+ , Conferinta de finalizare a proiectului YOUTH'S MEMORIES BOX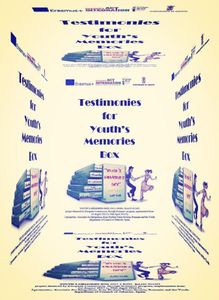 MAGAZIA KULTURAL+ , Conferinta de finalizare a proiectului YOUTH'S MEMORIES BOX,
Erasmus+ 2015-2-RO01- KA105-015435
Data: 20 Aprilie 2016, ora 11,00
Locație: Drobeta Turnu Severin, Centrul Scolar pentru Educatie Incluziva "Constantin Pufan", str. Calugareni, 1 bis
Invitatie
Aprilie 2016
Asociația Act Integration, coordonator al proiectului "Youth's Memories Box" va invita sa luati parte la MAGAZIA KULTURAL+ , Conferinta de finalizare a proiectului YOUTH'S MEMORIES BOX, care va avea loc la data si locația prezentata mai sus.
Derulat in perioada august 2015 - aprilie 2016, proiectul a constat in implementarea unui schimb de tineri, promovarea Cutiei cu Amintiri a Tinerilor ca instrument educational, cultural si social, crearea unei noi organizatii non-guvernamentale de tineri, cu numele Magazia Kultural+
In cadrul evenimentului, va fi vizitata expozitie tematica cu produse, participantii si partenerii lor vor impartasi experienta si impresii din activitatile organizate in cadrul institutiilor lor.
Va avea loc premierea partenerilor, tinerilor care au contribuit si obtinut rezultate in timpul proiectului. Se vo acorda premii si diplome.
Partener promotor: Ayuntamiento Albacete, Europe Direct Albacete, Spania
Va rugăm să confirmați participarea la eveniment până luni, 18.04.2016, ora 14,00 :
Contact :
Padina Tudor-responsabil de proiect, Rusu Mirela-presedinte organizatie,
tel 0724414687
Proiectul " YOUTH'S MEMORIES BOX" este finanţat de finantat de Uniunea Europeana, prin programul Erasmus+, Acțiunea KA1.
"The European Commission support for the production of this publication does not constitute an endorsement of the contents which reflects the views only of the authors, and the Commission cannot be held responsi­ble for any use which may be made of the information contained therein."