16
Aug
Societatea civilă democratică-Europa tinerilor, legii și a solidarității - Democratic civil society-Europe of youth, law and solidarity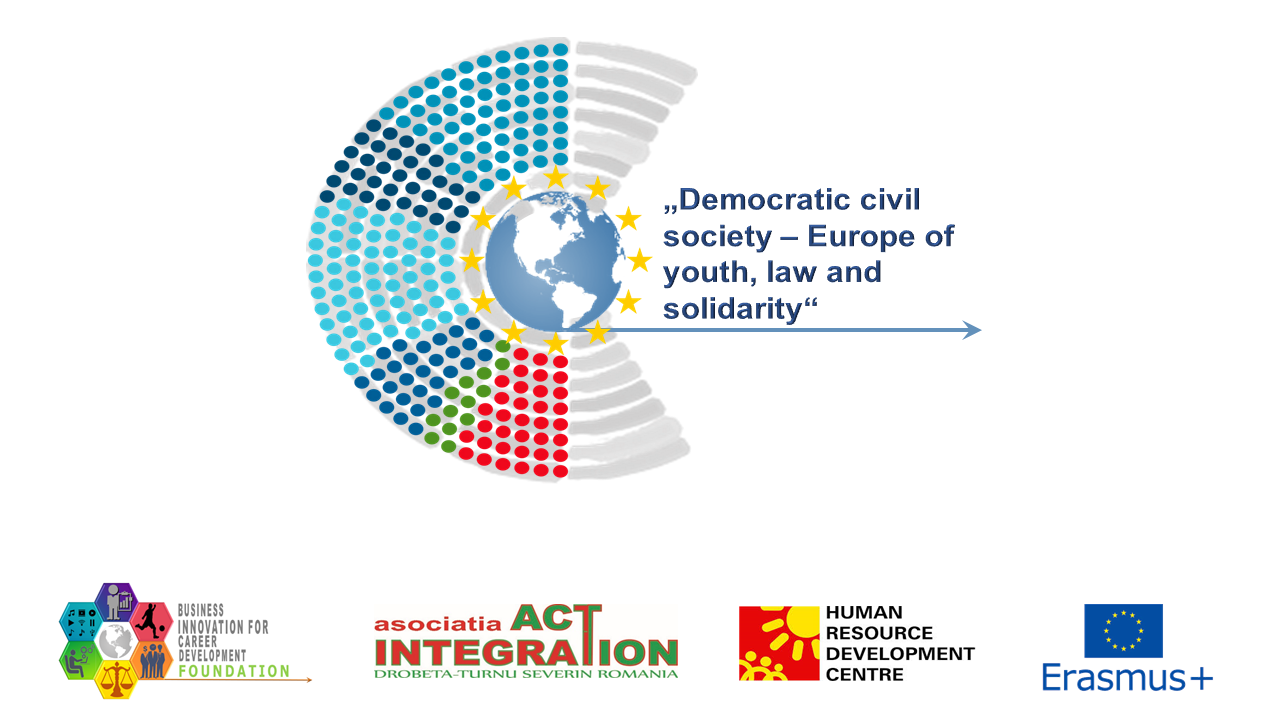 Acest proiect este finanţat cu sprijinul Comisiei Europene, prin programul Erasmus+. Această comunicare reflectă numai punctul de vedere al autorului şi Comisia nu este responsabilă pentru eventuala utilizare a informaţiilor pe care le conţine.
FUNDAȚIA PENTRU INOVARE ÎN AFACERI ȘI DEZVOLTAREA CARIEREI – Bulgaria, organizație coordonatoare, în parteneriat cu ASOCIAȚIA ACT INTEGRATION- România, organizație gazdă, au desfășurat în perioada 10-15 august 2021, activitatea principală a proiectului "Societatea civilă democratică-Europa tinerilor, legii și a solidarității-Democratic civil society-Europe of youth, law and solidarity" cu nr. de ref. 2020-3-BG01-KA105-094859, finanțat cu sprijinul Comisiei Europene, prin programul Erasmus +, acțiunea-cheie 1.
În această mobilitate educațională, 31 de tineri români și bulgari au beneficiat de formare pe tema "Drepturile omului și principiile democratice ale guvernanței – construirea de valori pentru justiție, egalitate și solidaritate în rândul tinerilor", în orașul Drobeta Turnu Severin, România. 60% din participanți au fost tineri cu oportunități reduse, făcând parte din 3 culte religioase diferite, ceea ce a adus plusvaloare și optimism dezbaterilor și timpului petrecut împreună.
Prezentările, seminariile, workshopurile și activitățile nonformale de grup, pe echipe, dar și individuale, au vizat subiecte de interes pentru tineri, ca drepturile omului, principiile și valorile UE, libertățile și responsabilitățile cetățenilor europeni, mecanismele de guvernanță democratică și justiție în Bulgaria și România.
Nu în ultimul rând, tinerii au fost încurajați să își exprime opiniile privind comunitatea locală și europeană, să găsească modalități de implicare și participare la viața acestor comunități.
Materialele folosite au fost diverse, atât noi, cât și obținute din obiecte reciclabile. La crearea acestora au participat în mod direct voluntarii, în perioada de pregătire.
Proiectul a fost un real succes, de care s-au bucurat toți cei implicați, creionând deja ideile pentru o activitate viitoare în Bulgaria.
Mulțumim partenerilor locali, pentru susținerea acordată: Muzeul Regiunii Portilor de Fier, Biblioteca Județeană "I.G.Bibicescu", Palatul Cultural "Teodor Costescu", Centrul pentru educație incluzivă "Constantin Pufan", Centrul Recreativ "Sf. Tereza Verzeri"!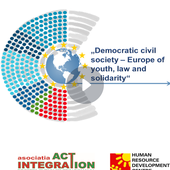 Check out my Video - Created with Promo.com
Promo.com gives you ready-made video templates, high-quality footage, fully-licensed music, a built-in editor and free image tools so you can create stunning marketing visuals to promote anything ...
https://promo.com/share/61238ab1e3723a19187cd98d?utm_source=old_share_page_share_dialog