20
Jul
"Youth's Memories Box Testimonies" Tool activated on SALTO
"Youth's Memories Box Testimonies", rezultat al proiectului "Youth's Memories Box" Erasmus+ 2015-2-RO01- KA105-015435, finantat de Uniunea Europeana, a fost activat pe SALTO, ca tool- resursa de lucru pentru educatie interculturala, cetatenie europeana, peer education, participarea tinerilor, probleme de gen-gender issues.
http://toolbox.salto-youth.net/1846
SALTO-YOUTH este o rețea de centre care furnizează resurse de învățare non-formală pentru animatorii socioeducativi și organizează activități de formare și relaționare în sprijinul organizațiilor și al agențiilor naționale implicate în programul Erasmus+.
SALTO-YOUTH.net este o rețea ce reuneşte 8 Centre de Resurse care realizează priorităţile europene în domeniul tineretului. Acesta oferă locuri de muncă pentru tineret și resurse de formare, organizează instruirea lor, de asemenea acordă sprijin organizațiilor şi Agenţiilor Naţionale în organizarea activităţilor în cadrul Programului Tineret în Acţiune a Comisiei Europene. Istoria SALTO-YOUTH a început în anul 2000 și face parte din Strategia de formare a Comisiei Europene în cadrul programului Erasmus+ și lucrează în sinergie și complementaritate cu alți parteneri din domeniu.
Ce face SALTO-YOUTH?
• Sprijin pentru Agențiile Naționale Erasmus+ (AN) și EuroMedYouthUnits (UEMT);
• Oferă oportunități avansate de învățare și formare profesională în cadrul Programului ERASMUS+ în domeniile prioritare;
• Contribuie la dezvoltarea, colectarea și difuzarea resurse pentru activitatea europeană de tineret.
Cele 8 Centrele de resurse ale SALTO:
• Incluziune socială;
• Diversitatea culturală;
• Participare;
• Cooperarea EUROMED;
• Europa de Sud-Est;
• Europa de Est și Caucaz;
• Formare și Cooperare;
• Informații.
The Tool "Youth's Memories Box Testimonies", a result of "Youth's Memories Box" Erasmus+ 2015-2-RO01- KA105-015435, project financed by the European Union, was activated on SALTO.
http://toolbox.salto-youth.net/1846
SALTO-YOUTH is a network of eight Resource Centres working onEuropean priority areas within the youth field.As part of the European Commission's Training Strategy, SALTO-YOUTH provides non-formal learning resources for youth workers and youth leaders and organises training and contact-making activities to support organisations and National Agencies within the frame of the European Commission's Erasmus+ :Youth in Action programme and beyond.
Who does what?
The eight resource centres each focus on a specific topic or region. They are all based at a different Erasmus+ National Agency. The resource centres are:
In addition to their specific priorities, the SALTO-YOUTH Resource Centres have a number of joint tasks such as developing training resources, sending regular newsletters about European YOUTH priorities, providing a European Training Calendar, making experiencedEuropean youth trainers accessible and evaluating the training activities.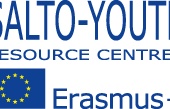 SALTO-YOUTH - Toolbox - Youth's Memories Box Testimonies
You can use the Memory Box in multiple ways: there are people without opportunities, or without families and they do not have such "testimonies", there are around you men or women with Alzheimer ...
https://www.salto-youth.net/tools/toolbox/tool/youth-s-memories-box-testimonies.1846/
"Youth's Memories Box" Erasmus+ 2015-2-RO01- KA105-015435, project financed by the European Union