25
Jan
EVS contact seminar in Lorraine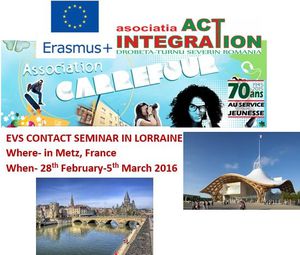 « Seminaire de contact SVE en Lorraine- EVS contact seminar in Lorraine», implemented between 28th february-5th March 2016 in Metz, France, by Unesco Club Metz in partnership with Act Integration Association from Drobeta Turnu Severin Romania and 2 other promoters from Bulgary and Turkey is an initiative to network of stakeholders in the mobility of young people with fewer opportunities in the Lorraine region.
This network brings together organizations in the youth information, job search assistance, hosting, professional integration of the disabled, the geographical mobility of educators, organizers of work camps... as well as institutions and public authorities.
The purpose of this network is to develop EVS short term the reception and sending by federating and in pooling expertise and proposals.
The seminar purpose is to allow partners to exchange their practices and their experiences, their tools, their projects, to agree on the modalities for the Organization of these EVS groups of young people with fewer opportunities, in order to bring together all chances for the success of their mobility experience while minimizing risk through knowledge mutual partners, and procedures.
Following this seminar, we hope to very quickly start receptions and remittances, hope widely shared by the actors.
This seminar and this organisation of mobility between in the context of the implementation of the regional Committee of mobility and the creation of the regional House of mobility and volunteering. and part of the response to the call for project the Youth Experimentation Fund in Lorraine region.
Participants profile: youth workers, mentors
Age: + 17 years old
Languages used: English/French
Location and Accomodation:
The seminar take place in Carrefour association, where Unesco Club has the office.
It's an integrate centre, with bedrooms, restaurant, rooms to work, ... in the centre of the town, close to town hall, museums, market, stories, leisure and so on.
http://www.carrefour-metz.asso.fr/auberge_de_jeunesse.php
Metz is an historical town, since more than 2000 years.
http://www.tourisme-metz.com/en/essentials.html#.VqKbyETC7wo
Transport:
The participants shall pay in advance the price of the tickets.
Travel expenses shall be reimbursed on presentation of all original supporting documents:
- Original tickets/ original boarding passes;
- Original invoices or receipts;
Maximum amount reimbursed 275 euros/participant
How to apply?
Send a letter of motivation and your CV to the following address: actintegrationro@gmail.com
Deadline: 31 January 2016
Contact person: Mirela Rusu, president Act Integration Association
The participants accepted will be contacted by phone/email.
More about SVE / EVS
https://www.france-volontaires.org/-Service-Volontaire-Europeen-SVE-
http://ec.europa.eu/youth/programme/mobility/european-voluntary-service_en.htm
http://www.voluntareuropean.ro/
More about Erasmus+ program
http://ec.europa.eu/programmes/erasmus-plus/index_en.htm