01
May
EYOUTHOCRACY PROJECT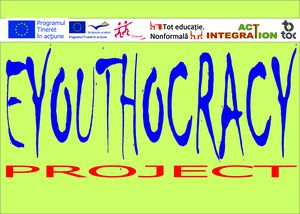 EYOUTHOCRACY is a bilateral project financed by the European Comission, through the Youth in Action program, Action 3 - Youth in the World, Sub-Action 3.1.a - Cooperation with the Neighbouring Partner Countries of the European Union, Youth Exchanges, implemented in the period 1st may 2013-30th november 2013 (214 days) by 34 volunteers of the two NGO partners ACT INTEGRATION association from Drobeta Turnu Severin, Romania and YOUTH CENTER from Zajecar, Serbia.
In the context of the European Year of Citizens 2013 the project's theme is exploring how can youth exercise their rights, and the importance of leisures as cultural, creative and constructive voluntary activities, in the process of development of young people and of their communities.
The objectives are:
• To provide a non-formal space to express their creativity, to dialogue, to cooperate, to gain and exchange experience for the 34 young volunteers from Serbia and Romania
• To develop for the volunteers a number of 5 european values, 5 attitudes, and 5 abilities that are fundamental for the social capital, for an open and cohesive society
• to highlight democratic youth rights, including the right to vote and to empower them to take an active citizen role in their community and in Europe
The budget from the European Comission is 13975 euros and the co-financement for the project is 2000 euros.
The exchange activity will be developed in Romania, in Drobeta Turnu Severin and Deva, between 8th july-18th july 2013 and consists in crafts, quilling, drawing, sculpture, folk dance and pop art workshops, outdoor, environmental and open activities in contact with citizens and authorities, sessions of youth rights, non-formal debates on youth lifestyle, on european citizenship, on the benefits of EU programs for youth.
The methods used are non-formal- ice-breakers, energizers, teambuiling games, learning by doing situations, debriefings.
During the project the two promoters will organise activities for Europe's Day, European Youth Week and European Local Democracy Weeek 2013.